Fire And Light – Celtic / Asian Fusion with Joe O'Donnell
Joe O'Donnell Tops The Bill
Join together to celebrate Coventry's diverse range of cultures and communities with an amazing fusion of Celtic-Asian music and dance from a power-house band led by acclaimed international musician, Joe O'Donnell on violin, accompanied by tabla player Juggy Rihal, guitarist Si Hayden, Uillean Piper Aiden O'Brien, Martin Barter on keyboards, South Asian dancer Sabrina and lively Irish dancing from Mary Theresa McHugh Irish Dancing School!
Feel the hatka jatka (high-energy) pulse as Sohan Kailey takes you through an exciting, fun and interactive Bollywood dance workout!
Experience striking Indian classical Kuchipudi dance featuring Chitra Suresh, a passionate dancer, performer and choreographer who has performed at prestigious events across the world
Sing along to a range of popular Bollywood favourites, from classics of the 1950s, 60s and 70s to contemporary hits, as talented brothers Hemant and Raj Patel showcase their beautiful and versatile voices
Enjoy colourful Bollywood and folk dance from Anjali Dance.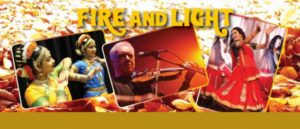 A Sampad Production
The event is hosted by Sampad, the Birmingham-based company that connects people and communities with British Asian arts and heritage.
Sampad believes in the power of arts and heritage to impact widely on all communities – breaking down barriers, raising important issues, amplifying unheard voices and bringing people from all walks of life together.
Now in its 25th year, Sampad continues to play an instrumental role in promoting and encouraging British Asian arts, so that they progress, break new ground and enrich mainstream culture in the UK.