Cork Folk Festival
Price: €15
Date: Sun, Oct 01, 2017
Time: 8:00 pm - 11:00 pm
Venue: Cyprus Avenue
Location: Cork, Ireland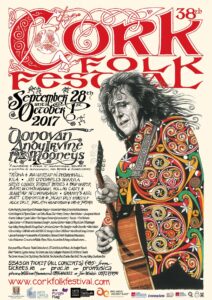 Shkayla's appearance at Cork Folk Festival marks the band's first visit to Ireland. It's also Joe's first return to the land of his birth in almost 40 years!
In 1977 Joe released Gaodhal's Vision, his first album as leader, on Polydor. It was recorded with top musicians of the day, including the great guitarist Rory Gallagher, with whom he enjoyed a close musical friendship. Fusing Celtic, Rock, orchestral and other influences the album describes the migration of the Milesian people from Egypt to Éire in Neolithic times.
40 years later Joe has completely re-worked the album, remixing the original 2" master tapes and adding previously unheard material. This includes acoustic and electric guitar solos by Rory, and additional tracks by members of Joe's dynamic band Joe O'Donnell's Shkayla. The band's appearance at Cyprus Avenue also marks the official launch of the new album 'Gael's Vision 40th Anniversary Edition' in Ireland.
Prodigious reputation!
Living in Coventry for the last 25 years, Joe has earned a prodigious reputation as a fiery and inventive performer, especially supported by Shkayla. The band features Martin Barter on keyboards and vocals, Coventry's unique guitar phenomenon Si Hayden, respected bassist Adrian Litvinoff and fusion drummer Karen Milne. Recently the band performed the whole of the new album Gael's Vision to ecstatic audiences at the Coventry Belgrade Theatre, augmented by guest musicians, Indian and Irish dancers, and dramatic visuals.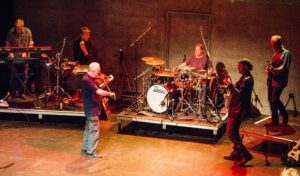 In Cyprus Avenue's funkier atmosphere you can expect a real 'in your face' account of Joe's great work, sweeping between Celtic lyricism, traditional styles, and out-and-out progressive folk-rock. Support is by The Diviners – Eoin Jordan, Anthony Ruby & Mick Pierce. The gig is at 8.00pm on Sunday 1st October.
The day before, Joe will be talking about his times with Rory at the Rory Gallagher Music Library, starting at 3.30pm. For full details of Cork Folk Festival visit their website at http://www.corkfolkfestival.com/homepage-alt-1/