Were you in Joe O'Donnell's 'Vinyl Vanguard'?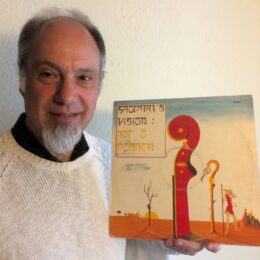 Did you, or someone you know, have a copy of 'Gaodhal's Vision' when it came out in 1977? Still got it now? We'd love to know where those albums went – and if they are still around! So we're calling out to all members of Joe O'Donnell's 'Vinyl Vanguard' to let us know.
Just post a picture of yourself with the album sleeve on our Facebook page, and you can pick up a voucher for 20% discount on the RRP of the new 'Gael's Vision 40th anniversary Edition'. This has the remastered studio album, now gloriously enhanced and extended, plus a DVD of the the whole work played live by Joe and his current band Shkayla, with guests.
Live appearances
If you didn't make the shows in Coventry (or even if you did!) there are two opportunities to enjoy the whole of Gael's Vision live in the next few weeks – see our event pages.