Godiva Festival 2017 Flyer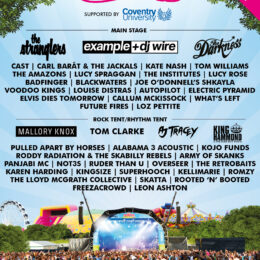 Here now is the Godiva Festival 2017 Flyer – with Joe O'Donnell's Shkayla prominently displayed, just as it should be.
We're playing the Main Stage on Sunday 9th July at 1.55pm.
Largest free festival
The Godiva Festival is the largest free family friendly festival in Britain, and is organised by Coventry City Council. It takes place over 3 days in the War Memorial Park on the south side of the city. Full details are available on the Festival Website.