Gaodhal's Vision – closer to re-release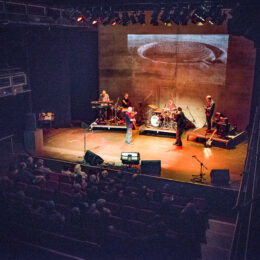 In 1977 Joe O'Donnell released Gaodhal's Vision, his first album as leader. Now it's getting ever closer to re-release.
Fusing Celtic, Rock, Indian and other influences the album describes the migration of the Milesian people from Egypt to Éire in megalithic times. It was recorded with top musicians of the day, including the late, great guitarist Rory Gallagher, with whom Joe enjoyed a close musical friendship.
After months of preparation the band performed the whole of Gaodhal's Vision to ecstatic audiences at the Belgrade B2, augmented by guest musicians, Indian and Irish dancers, and dramatic visuals.
Veteran Coventry music journalist Pete Clemons has been documenting the music in the City for years. He was at one of the concerts and you can read his account of proceedings on his blog http://coventrygigs.blogspot.co.uk/2017/04/joe-odonnells-gaodhals-vision.html
New material
Now Joe is completely re-working Gaodhal's Vision, remixing the original tracks and adding new and previously unheard material. This is due for release on July 14th packaged with a live DVD of the Belgrade shows as Gaodhal's Vision 40th Anniversary Edition. The band is looking forward to touring the album to Festivals and other venues later in the year.