Gaodhal's Vision 40th Anniversary Edition – pre-order now!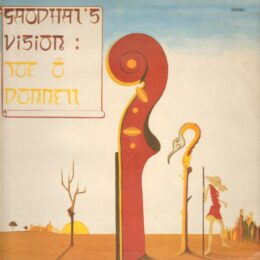 There is still time to pre-order Gaodhal's Vision 40th Anniversary Edition at 20% off!
Comprising a re-worked CD version of the original LP plus live DVD and handsome insert in a 6-pag digipack, we think the 40th Anniversary Edition will soon be as much of a 'collector's item' as the original vinyl.
Joe has carefully reviewed all the material from the original 1976 recording sessions, making some fresh selections while keeping true to the original recordings. Members of Shkayla and others have been drafted in, adding subtly to the original tracks. The finished result will deliver
Remixed and re-mastered audio
Instrumentally enhanced and additional material
Previously unheard Rory Gallagher lead guitar
Full-length Live DVD
12pp souvenir insert
"Fierce and lively"
Respected music blogger and critic Pete Clemons attended the Belgrade shows and described the performances as 'Fierce and lively …. and, where required, sympathetic to the storyline.' His review of the show sits within a piece describing the origins of the album and the work that is going into the 40th Anniversary Edition. Catch it here.
12.5% Off – Limited Period Only
The 20% discount offer expires at the end of May. You can order here.
Gaodhal's Vision 40th Anniversary Edition is released on 14th July.
If you are new to this site why not also sign up for email updates? (See link below)