Gael's Vision 40th Anniversary Edition – New Dispatch Date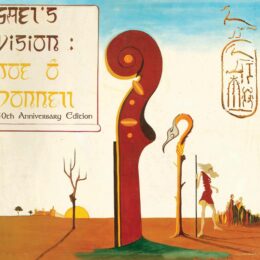 At last we can announce that Gael's Vision 4oth Anniversary Edition has finally gone into production!
Vertical Learning Curve
We probably should have anticipated some of the ways in which the production process would become ever more protracted. As it turned out our ambitions for the project, fuelled by the self-confidence that comes with almost total ignorance, led us into completely unforeseen realms of digital jiggery-pokery.
Some of us became hermits in the editing cave, subsisting on little but tea and biscuits, sleeping on camp beds under the mixing desk, and talking frame numbers in our sleep….
We were particularly fortunate in having the patient guidance and assistance of Ben Haines, Russell Whitehead and Ben Skirth who between them helped us across the yawning crevasse of ignorance, as we recklessly attempted the almost impossible and probably inadvisable!
New Dispatch Date
We are all really proud of the results, however!
So we eagerly await delivery from the manufacturer early next week. Barring any last minute hiccups we will be sending out pre-ordered copies on Friday 24th November. 
Our sincere thanks to all the patient people who have pre-ordered the album, some of you several months ago.  Yours will be the first ones out of the box – that's a promise!
Anyone else thinking of ordering – it is now safe to do so! Click here