'Gael's Vision' Album Launch Preview
Price: £8 advance, £10 door
Date: Sun, Sep 24, 2017
Time: 7:30 pm - 10:30 pm
Venue: The Zephyr Lounge
Location: Spencer Street, Leamington Spa, CV31 3NF
Join Joe and the band for their 'Gael's Vision' Album Launch Preview before they launch it at the prestigious Cork Folk Festival on 1st October.
In 1977 Irish violinist and composer Joe O'Donnell released Gaodhal's Vision, his first album as leader. 40 years later Joe has completely re-worked the album, remixing the original tracks and adding previously unheard material.
It was recorded with top musicians of the day, including the late great guitarist Rory Gallagher, with whom Joe enjoyed a close musical friendship. Fusing Celtic, Rock, Indian and other influences the album describes the migration of the Milesian people from Egypt to Éire in megalithic times.
Joe worked in several top bands in the 1960s and 1970s including East of Eden, Headstone, the Woods Band and Thin Lizzie, before launching his solo career as leader of the Vision band.
Living in Coventry for the last 25 years, he has earned a national reputation as a fiery and inventive performer. His dynamic band Joe O'Donnell's Shkayla now features Martin Barter on keyboards and vocals, Coventry's unique guitar phenomenon Si Hayden, respected bassist Adrian Litvinoff and fusion drummer Karen Milne.
Live DVD
Recently the band performed the whole of Gael's Vision to ecstatic audiences at the Belgrade B2, augmented by guest musicians, Indian and Irish dancers, and dramatic visuals. The shows were filmed for DVD release as part of the 40th Anniversary Edition.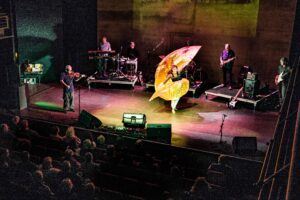 In the Zephyr Lounge's funkier atmosphere you can expect a proper 'in your face' account of Joe's great work, sweeping between his Celtic lyricism, traditional styles, and out-and-out progressive rock.
The album drops on September 29th packaged with a live full-length DVD as Gael's Vision 40th Anniversary Edition. The official album launch will be at the prestigious Cork Folk Festival, Ireland, on October 1st. Check the web site for more info: www.joeodonnellsshkayla.com